Each year since 2014, museums across the world have collaborated in a shared initiative to celebrate their treasures with the public in an online festival known as 'MuseumWeek.'
MuseumWeek has now grown to include over 60,000 participants from 100+ countries. According to its website, it has become the first virtual, worldwide cultural event on Facebook, Instagram, Twitter, Weibo, WeChat, and VKontakte.
Between 11 May- 17 May this year, many of your much-loved museums have been participating via their social media, at a time when it is vital to connect.
Technology has often had a strange tension between being a blessing and a curse. It has blessed people through the dissemination of information and connecting people in ways that otherwise would not be possible. However, it has also caused uncertainty, where the threat of technology consuming life has pervaded literature and the arts, from dystopian writers such as George Orwell and HG Wells to science fiction films like, but not limited to, Blade Runner (1982) and 2049, Terminator, RoboCop, and Alita: Battle Angel. As we begin to rely increasingly on technology, it is inevitable that we refer to visionaries who have imagined a future that has been absorbed by technology, either willingly or unwillingly, consciously or unconsciously, for good or bad. I took a while to join any form of social media and was only persuaded to do so in University, as a way to keep in touch.
There is also the issue of trust in images that pervade modern culture, such as the utilization of Photoshop, where images can so easily be manipulated and the lines between fact and fiction blurred. This is a fascinating issue that has been explored in Dr, James Fox's The Age of The Image, a series that I would recommend watching on BBC iPlayer.
The idea of whether a happy equilibrium could be met between humanity and technology has become heightened in these recent extraordinary times, where imposed lockdowns and restrictions on movement due to Covid-19 has meant people have turned more to social media as a way to connect to others, to culture, the natural world, or whatever they miss from their normal routine.
As an artist, I spend much of my time in my studio creating, and I have seen other artists argue that they have been in lockdown ever since they can remember. However, I also feel acutely the lack of being able to freely move without restriction. I think however that often, and not to become too philosophical, that even as prisoners of war can attest, freedom ultimately lies in your mind.
Times of hardship have often proven to activate the imagination and creativity, reinspiring people to see their surroundings in a whole new light, bringing forth a mental and even spiritual transformation.
Rather than being overcome by inertia, those working at these places of culture have become even more resourceful during the lockdown. As James Fox rightly says, you can't lockdown, or lock up the imagination. Throughout the lockdown, James has been sharing pieces of art on his Twitter account that he feels will help people come to terms with isolation. You can follow him @doctorjamesfox.
Since joining social media, I have enjoyed following my favourite museums on Instagram and Twitter, when I have not been able to attend in person. Museums such as The Wallace Collection, the V&A, the Louvre, the British Museum, The Museum of Natural History, The Science Museum, The Met, amongst so many others. I also enjoy following other art institutions such as Christie's or National Trust properties like Waddesdon Manor, as, like the other museums I mentioned, they consistently share their most beloved treasures and stories in a way that engages the viewer and informs them, keeping their minds occupied and relieving boredom. You can even get involved with their accounts by participating in their interactive challenges, such as creating an artwork based on an item in their collection or reenacting a famous painting.
The willingness of the public to engage with these institutions online proves to me that time and again, arts and culture provide a vital means of education, inspiration, and entertainment at any period of time and are a way of understanding current experiences. By seeing stories from the past or how artists have translated their times, whether they have lived through war or peace, can often be a way of inspiring further generations on how to react in our times. Technology can never replace a loved one, but for those struggling with not being able to be physically close to those they love most, social media can be a form of comfort and can help reinforce gratitude and appreciation. Seeing through the eyes of a curator or artist can not only help relieve boredom, but also anxiety, bringing a sense of peace to the viewer.
Even when there is no lockdown, I would recommend following MuseumWeek's account, or simply your favourite museums and art galleries on social media, either Facebook, Instagram, or Twitter, or if you are like me, a combination of all three.
Personally, I have enjoyed learning new things about The Wallace Collection, Christie's, and The National Trust's Waddesdon Manor, to name a few (a more extensive list is included at the end of this blog). All three actively invite the public to get involved with them through various activities and challenges.
Based in Manchester Square, London, The Wallace Collection is a cornucopia of eclectic and exquisite items housed within beautiful interiors, including armour, sculpture, furniture, and paintings, collected by the Marquesses of Hertford and Sir Richard Wallace in the 18th and 19th centuries. My father and I had actually booked to attend a day's conference on Indian, Iranian, and Ottoman arms and armour at the museum, which we look forward to attending when possible.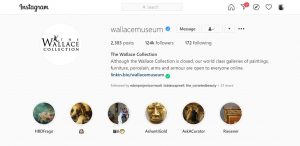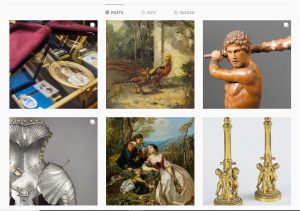 The Wallace Collection's IG page.
Waddesdon Manor in Aylesbury, Buckinghamshire, one of my favourite National Trust properties, if not favourite (it bears a remarkable and convenient resemblance to my beloved uni, Royal Holloway), was founded by The Rothschild family of Jewish bankers, and is a beautiful French Renaissance house, with sumptuous interiors, an exciting sculpture trail, and a lovely history of supporting the local community.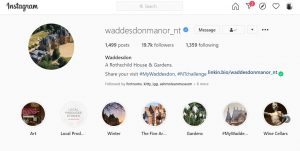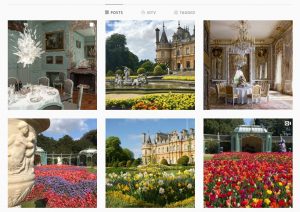 Waddesdon Manor's IG page.

Waddesdon Manor's Twitter page, which has a different collection of stories to its other accounts.
Christie's, located on Kings Street, St James', also has a wonderful collection of treasures that vary in each auction, from ancient history to the present day.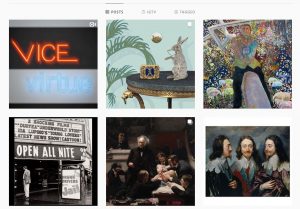 Christie's' Instagram page.
I would always argue that we should never rely on technology and that physical relationships are always superior, however, technology has a surprising way of blessing us in ways that might not previously have been appreciated.
I follow a lot of accounts that focus on my interests (quite a few it seems!), such as history, the natural world, space science, wildlife, design, fashion, interiors, engineering, architecture, art, and even technology itself as a means of design. I honestly believe that you never stop learning and that you can learn from anything and anyone, whether online or offline; it is your attitude that determines whether it is beneficial to you or not.
I think having an appreciation of arts and culture encompasses a cross-section of so many other fields, such as history, fashion, etc and enriches people in such an important way, acting as a vital artery to society itself. It has even been proven to be effective as a form of art therapy for people facing loneliness, whether in lockdown or not, rates of suicide, etc and problems with mental health; feeling a connection to someone, whether you know them or not, whether online or offline, can be very important, and even more so at this time. Even accounts such as the National Geographic or NASA help you to transcend your physical limitations, transporting you to different places in an instant. I will gladly argue that you will find following these accounts very rewarding and enriching, even liberating, whether you are in lockdown or not.
I would also argue that following these places digitally encourages the viewer to want to visit their physical space, if at all possible, and to support them in the physical world. Let us not forget that social media is a free service, and if you can, please support them through a donation or even liking and following their page, as it is a way of showing your appreciation of those people curating such entertaining and educational pieces of content, letting them know that what they do is as valued as any other essential service or area of society.
The themes that MuseumWeek has already covered include #heroesMW, timely after the 75th anniversary of VE Day, and #CultureInQuarantineMW.
Today, on Wednesday 13 May, the theme is #togetherMW, which seems wholly appropriate for the current times.
We can look forward to Thursday's #MuseumMomentsMW, where museums will recall memories, #climateMW on Friday for climate change (timely after Earth Day on 22 April), #technologyMW, to justify their digital presence, finishing with #dreamsMW.
I have included just a selection of my favourite arts and culture accounts to follow below, for both MuseumWeek and in general:
The Wallace Collection
Instagram – @wallacemuseum
Twitter – @wallacemuseum
Facebook – @wallacemuseum
Christie's
Instagram – @christiesinc
Twitter – @ChristiesInc
Facebook – @Christies
Waddesdon Manor
Instagram – @waddesdonmanor_nt
Twitter – @WaddesdonManor
Facebook – @WaddesdonManor
The V&A
Instagram – @vamuseum
Twitter – @V_and_A
Facebook – @victoriaandalbertmuseum
Fitzwilliam Museum
Instagram – @fitzmuseum_uk
Twitter – @FitzMuseum_UK
Facebook – @fitzwilliammuseum
The Louvre
Instagram – @thelouvremuseum
Twitter – @MuseeLouvre
Facebook – @museedulouvre
The British Museum
Instagram – @britishmuseum
Twitter – @britishmuseum
Facebook – @britishmuseum

The Natural History Museum
Instagram – @natural_history_museum
Twitter – @NHM_London
Facebook – @naturalhistorymuseum
The Science Museum
Instagram – @sciencemuseum
Twitter – @sciencemuseum
Facebook – @sciencemuseumlondon
The Met
Instagram – @metmuseum
Twitter – @metmuseum
Facebook – @metmuseum
The American Museum of Natural History
Instagram – @amnh
Twitter – @AMNH
Facebook – @naturalhistory
MuseumWeek
Instagram – @museumweek
Twitter – @MuseumWeek
Facebook – @MuseumWeekOfficial
*Please note, all opinions are my own*