In the new global race war for minerals and sustainability, Hydrothermal Vents, existing 4,000 metres (13,000 feet) below the ocean surface, have become a source of exploitation and vulnerability.
Deep in the abyss, there is an oasis of life.
Rising from the seafloor in spire-like forms, 55 meter (180ft) high chimneys filled with hot mineral-rich fluids erupt, appearing as cities or fortresses. They are alien-like structures, existing at the furthest depths of the ocean. Despite extreme pressures, temperatures, and toxic chemicals, they support an abundance of lifeforms, many species of which are unique and cannot be found anywhere else on the planet.
I wanted to capture the otherworldly beauty and nature of these vents in my oil pastel drawings, as I was concerned about the need to protect and conserve them. The more I discover these vents, the more I realise how fundamental they are to the health of the planet and their role in the global energy crisis. Many vents are rich in rare earth metals like cobalt, gold, and copper, necessary ingredients for electronic components. Ed Conway, Economics and Data Editor at Sky News, has called our times an 'arms race' for battery production.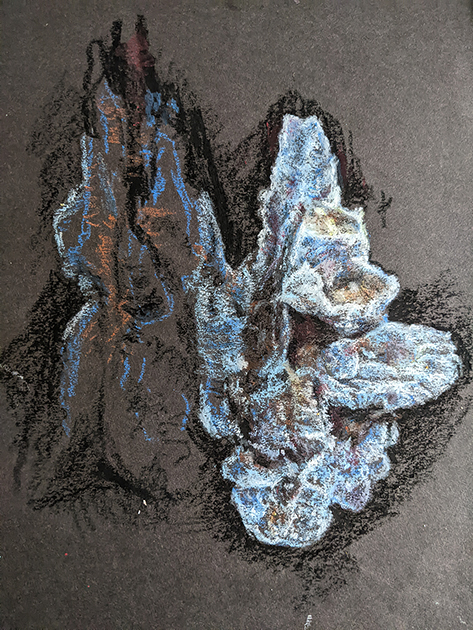 University of Southampton's 'Exploring Our Ocean' Course
Since completing a short course on Oceanography, hosted by the University of Southampton, I have immersed myself in the ethereal and fascinating world of hydrothermal vents.
As part of the course, Dr. Jon Copley shared his experience of diving down in a submersible vehicle to the Cayman Ridge. I was immediately captivated by their enigmatic qualities, these strange, gnarly smoking spires erupting out of the earth's crust. They looked primeval, and indeed are ancient, connecting the earth's unseen inner architecture and our visible landscape. Some vent fields are active for 10,000 years.
My drawings of Castle Vent and El Guapo were inspired by images from a 2013 Science in the News (SITN) lecture, 'The Alien Worlds of Hydrothermal Vents,' presented by Heather Olins. The artwork 'The Cathedral' is an imagined landscape, based on maps of deep-sea vent fields on the ocean floor and images from the NOAA website.
Only 20% of the ocean has been explored, with just 5% of the ocean floor mapped. Due to its inhospitable conditions, inaccessibility, and cost, more people have been to the moon than they have to the bottom of the ocean. Yet life exists. As Heather argues, they are alien worlds; as satellites have difficulty penetrating water, we have better images of Mars than the ocean floor.
What Are Hydrothermal Vents?
According to the National Oceanic and Atmospheric Administration (NOAA), scientists first discovered hydrothermal vents in 1977, whilst exploring an oceanic spreading ridge located near the Galapagos Islands. They noticed several temperature spikes in their data and wondered how the deep-ocean temperature could quickly change from near freezing to 400 degrees Celsius (750 degrees Fahrenheit).
These chimneys are found across the ocean, usually forming in vast vent fields, along the Mid-Ocean Ridges, such as the Mid Atlantic Ridge and the East Pacific Rise, stretching along 3000km of the mid-ocean ridge. They are essentially underwater hot springs or geysers, forming around volcanic regions as plate tectonics spread apart. Ocean water enters the fissures and percolates through the earth's crust, becoming geothermally heated by the magma in the upper crust. The water collects minerals within the crust, such as iron and manganese; when it contacts the almost freezing seawater and oxygen, the dissolved minerals crystalize, solidifying to form chimney-like vents and depositing metalliferous sediments, alongside releasing plumes of toxic chemicals. The tallest vent found, 'Godzilla,' was 16 stories high before it collapsed in the 1990s.
Research of the Endeavour Field and other mid-ocean ridges has led MBARI geologists and researchers to propose the theory of Hydrothermal Vent Field/Ridge Evolution:
Magmatic phase: Lasts up to tens of thousands of years, with substantial amounts of magma erupting and spreading across the seafloor.
Tectonic phase: Lasts around 5,000 years; magma production slows, and the ocean floor cools and contracts. Spreading continues further down in the crust. The axial valley sinks, and cracks and faults form in the seafloor.
Hydrothermal phase: Lasts a few thousand years; resurgent magma below the surface heats fluid that percolates up through cracks in the seafloor, forming many vents.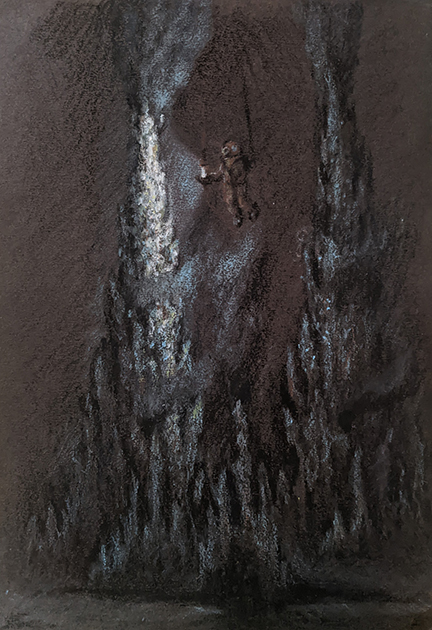 Hydrothermal Vent Ecosystems
The scientists who discovered the vents were also shocked to discover hundreds of new species. The smokers supported unique ecosystems, composed of highly specialised and simple organisms, some thermophilic microbes that thrive in high temperatures, such as yeti crabs, giant tube worms, limpets, shrimp, and clams. These vent communities are ancient and well established, with many building blocks of life and some of the most primitive lifeforms on earth.
It confounded the science community. Before their discovery, it had been thought that life could only exist via photosynthesis and sunlight. Life at the bottom of the ocean would be scarce, the only energy available from scraps of whale carcasses.
The toxic concoction of chemicals present at these vents is lethal to most forms of life. However, despite the lack of sunlight, toxic minerals, chemicals, and extreme pressures and temperatures, bacteria were converting the poisonous vent minerals into energy through chemosynthesis, providing food for other vent organisms. Species' existence may be cut short, as vents sometimes suddenly become inactive.
A few facts on Hydrothermal vent organisms:
Giant tube worms grow up to 3m in length; they are the fastest-growing marine invertebrates known.
95/% of these organisms are unique to the vent ecosystem, with new discoveries previously unknown to science. Many don't seem to be closely related to any other creature on the planet, which suggests they likely belong to a divergent evolutionary path.
Over 590 new animal species have been identified living at these vents.
Less than 50 active sites have been investigated.
Types of Hydrothermal Vents
Black smokers – These are the most common types of vents, and the hottest, emitting mainly sulfides and iron. The high levels of sulphides precipitate on contact with the cold ocean to form black smoke. Over 50m tall, the chimney is filled with silica, which is very hard. These vents are often found in the bathypelagic zone of the open ocean, between 1,000 to 4,000m (3,300ft-13,000 ft) below the ocean surface but can also be found in lesser depths as well as deeper in the abyss. This lack of sunlight or photosynthesis has led to the region being designated the 'midnight zone,' located between the 'twilight' mesopelagic' zone above, and the abyssopelagic zone below. The latter is virtual darkness, covering 83% of the total area of the ocean.
White smokers – These vents release cooler water and lighter-hued minerals containing mainly calcium and silicon, as well as barium.
Some vents emit carbon dioxide gas in a constant stream of bubbles.
Hydrothermal Mineral Deposits
Vent zones contain polymetallic sulfides that are rich in zinc and copper. Large amounts of copper are deposited when the hydrothermal vents form. Inside the chimneys are seafloor massive sulfides (SMS) or sulfide deposits containing gold, cobalt, silver, and manganese.
In a hydrothermal vent cross-section shown in Heather's lecture, minerals include white anhydrite sulfite, pyrite cubes 'fool's gold' sulphide, iron, sulphur, zinc, mini crystals sphalerite, or chalcopyrite copper as opposed to zinc. The distinct layers are determined by temperature and chemistry. The more gold sulphide is found, the older and harder the vent is.
According to Woods Hole Oceanographic Institute, 'seafloor deposits can be more than a thousand times richer in some metals than mineral deposits on land.'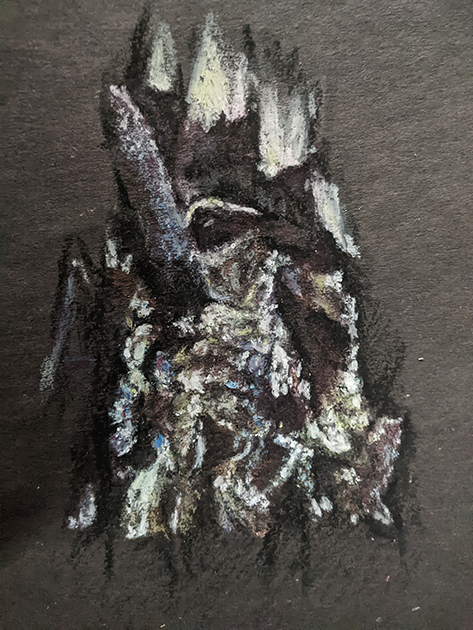 Deep-Sea Mining: The Race War for Minerals
Due to diminishing natural resources and fossil fuels in recent times and the transition to sustainability and renewable energy, mining companies have begun to consider the deep sea as the next mineral mine.
To achieve COP26's 1.5C goal for climate change, the UK has entered a race war for precious minerals and metals, such as copper, cobalt, iron, gold, nickel, zinc, and aluminium, all of which are needed for a variety of industries, mainly as electronic components.
Alongside lithium, cobalt is a necessary ingredient necessary for battery production, however, its unsustainable and unethical means of obtaining it might inadvertently result in vent exploitation.
According to Goldman Sachs, demand for copper (used in electrical wiring) could rise 900% by 2030, its price predicted to reach $6.80 per pound by 2025. The metal has been hailed as 'The new oil' and even a national security issue due to its strategic value.
In an extract from Mining Feeds, the authors of the Goldman Sachs report 'Nicholas Snowdon, Daniel Sharp, and Jeffrey Curries estimate that demand from electrification "will grow nearly 600% to 5.4Mt (million tonnes) in our base case and 900% to 8.7Mt in the case of hyper adoption of green technologies" by 2030. In the conservative base case, copper miners would see a massive demand to be filled surge faster than current production and production plans can accommodate. In the case of "hyper adoption of green technologies," the world is likely to see a problematic copper shortage that is certain to push the price higher and faster.'
The University of Southampton's oceanography course presenters, Professor Rachel Mills and Dr. Jon Copley revealed how companies have known about the mineral deposits at hydrothermal vents for years, however largely due to a lack of resources have been unable to obtain them. At deep-sea vents, there is a weight of a mile-and-a-half of ocean lying on top, ranging from 40 to over 110 times the pressure of Earth's atmosphere.
Dr. Jon Copley began writing about the concerns of deep-sea mining and exploitation of copper in 2014: 'Mining at deep-sea hydrothermal vents: what are potential impacts on marine life?' A highly respected scientist who advised on the BBC's Blue Planet series, Jon has been advising companies on how to do so sustainably, without damaging vent ecosystems.
It is incredibly important that marine geoscientists collaborate with companies and policymakers to ensure the ethical and sustainable extraction of resources if this becomes a necessity. The ocean is essential for life on this planet.
Hydrothermal vents act as a natural plumbing system, transporting heat and chemicals for the ocean, alongside adding elements from seafloor rocks. Scientists estimate that the entire volume of the world's oceans cycles through hydrothermal vent systems along the global Mid-Ocean Ridge every 10-20 million years or so.
A Blue Planet
The ocean comprises approximately 70% of the planet we live on. You wouldn't be wrong in saying we live on a Blue Planet.
The ocean is an incredible feat of nature:
According to NASA, it consists of 99% of the habitable space on the planet.
It produces more oxygen than the Amazon.
The ocean contains 97% of all the water on earth.
It accounts for 80% of the world's biodiversity.
The ocean produces more than 50% of the oxygen we breathe on earth. As it was pointed out at the Marine Conservation Institute's recent fundraising gala, one of every two breaths we take is from the ocean.
The deepest part of the planet is the Mariana Trench, near the Philippines, at 10,994 meters (36,070ft) below sea level. The Cayman Ridge is the second deepest.
Outer Space and Hydrothermal Vents
Astronauts like to visit the deep sea. Aside from mimicking zero gravity, it is like another planet.
Unique lifeforms can be found at hydrothermal vents that exist nowhere else. Known as extremophiles, these organisms thrive in hostile conditions that otherwise would be impossible. Active hydrothermal vents are believed to exist on Jupiter's moon and natural satellite, Europa, and Saturn's moon Enceladus. It is also believed that Mars might have once supported ancient hydrothermal vents.
Ganymede (another of Jupiter's satellites) and Saturn's satellite Titan are both thought to support life.
Hydrothermal Vents: Uniquely Vulnerable Ecosystems
As the ocean is essential for life on this planet, so too are hydrothermal vents, being essentially connected to the ocean as a plumbing system. Their destruction could be disastrous.
The deep-sea is one of the last remaining mysteries of our planet to science. It is largely unexplored. However, this presents a dilemma: if we explore the last frontier on earth and discover all its secrets, species, and potential opportunities to help advance medicine or produce renewable energy, the ocean, and its incredible habitat become vulnerable to exploitation, deep-sea mining, and pollution. In our fervent, and perhaps reactionary desire to save the planet, our actions would be misled, no matter their pure intentions. In reaching for sustainability, it is compromising the very planet we are hoping to save.
There is a need for balance, to only take what we need from the planet, a circular economy. These vents may be subject to mining at some point, but it would need to be done sustainably or as a last resort. Ideally, we should consider other, more renewable alternatives and greener technologies.
It is imperative that the ocean is protected and that mining companies effectively collaborate with scientists around the world. Any exploration or exploitation should be done cautiously and with respect to ocean communities both in the sea and that rely on the sea.
It is a complex issue, and the solution is not always so clear-cut. I have always found the following quote inspiring and very poignant, in relation to maintaining the fine balance and health of the planet, and our relationship with it. Everything is connected. It is not random we are on this planet; we are custodians and guardians of the earth around us.
Sometimes it is indigenous peoples, and those with the closest connection to nature and their environment, that direction and wisdom can be found.
"Only when the last tree has been cut down, the last fish been caught, and the last stream poisoned, will we realize we cannot eat money."

Cree First Nations proverb.