"Dreams save us, dreams lift us up and transform us and on my soul, I swear until my dream of a world where dignity, honour and justice becomes the reality we all share I'll never stop fighting. Ever." Superman. Action Comics #775 (2001)
Superheroes have entered contemporary mythology in a way unlike ancient myths, medieval legends and western films. Where the latter were constrained by historical facts and authenticity, the creators of superheroes could give their imagination free reign, inventing characters, costumes, technology, superpowers, heroes, villains and worlds through which they could convey their narratives. Although a product of the culture at a particular time, every element was unique and the colours and graphics have captured the imaginations of many for generations to come.
The writers, always drawing from current events, have been able to make superheroes form the base of our modern mythology and remain consistently relevant to humanity across the ages, bringing hope to society, whether its when confronted by economic decline, war or terrorism, or marking scientific, technological and medical advancements. The characters, their costumes and icons have evolved to reflect the aesthetic of each era. As Moulton Marston (pen name Charles Moulton), creator of Wonder Woman, puts it, superheroes are in fact, our national aspirations.
I recently visited 'The Art of DC – The Dawn of Superheroes' exhibition at The O2 (perfect timing for Father's Day I might add!), where a century of artistic creation is currently being celebrated, from traditional methods of artwork to synthesizing animation, art and computer technology. The exhibition has been curated by Parisian museum, Art Ludique – Le Musee, the first museum in the world dedicated to contemporary art from comics, animation, manga, movies and videogames. Over 250 original historical comic pages, graphic art, illustration, preparatory charcoal and pen and ink drawings, 280 concept art and numerous costumes and props used in the films are on display.
The first superheroes:
The appearance of superheroes revolutionised the comic genre and the era, influencing art, literature, fashion and television. Created by Jerry Siegal and Joe Shuster, Superman made his debut in the first issue of Action Comics in 1938 as a hero from another world, wielding superpowers and symbolising hope, truth and justice admist scientific and medical advancements and the rise of fascism. The success of Superman inspired a young artist named Bob Kane, who, with Bill Finger, created 'The Bat-Man,' appearing in Detective Comics the following year. Rather than harbouring superpowers, Batman used his own intelligence and abilities to become a superhero in order to fight crime. Both opposites (an immortal and a human), they set a standard for all forthcoming superheroes and a new genre of contemporary mythology. Both cover artworks below were by Fred Guardineer in the era known as The Golden Age of Comic Books (1930s-50s):
Action Comics #50 cover, pen and inks, July 1942 by Fred Ray:
June 1938 cover: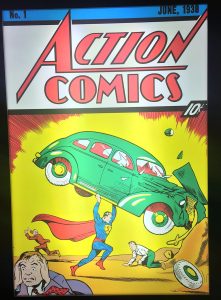 Superman #14 pen and ink cover by Fred Ray: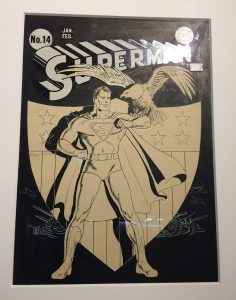 Superman was a conveyor of truth and justice, seen here protecting young boys from being arrested after being asked to paint a wall mural:
The influence of Superman in contemporary culture was made indelible in 1961 with Andy Warhol's reproduction of a scene from the comic 'Superman's Girlfriend, Lois Lane' #74 for a New York department store window. The image quickly became emblematic of Pop Art and was published in the story 'Super Surprise!' drawn by artist Kurt Schaffenberger:
Superman storyboard in ink and marker by Walley Veevers (1978):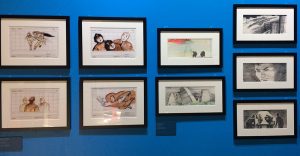 Since his inception in 1938, Superman's dual identities have presented the timeless struggle of both an ordinary man and a superhero. Clark's professional attire acts as a device to hide his powerful physique, whereas Superman's colourful costume shows off his muscular body. His visual look and heroic pose are similar to heroes from Greek mythology, portrayed in sculpture with chiselled features and impressively muscled bodies. His portrayal set the standard for all future superheroes across the different art forms.
Paint on cel of Clark Kent and Superman for 'Superman, The Animated Series,' 1996-2000: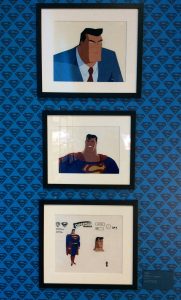 Digital concept art by Jared Purrington:
After Superman's creation came a darker action hero, Batman, more akin to a city cop than a superhero. Suffering from childhood trauma and a witness to his parents murder, Bruce Wayne uses his vast wealth and resources to fight crime in Gotham city. As Philosophy Professor Thibaut de Saint Maurice explains, he embraces the night to avenge their deaths, using the darkness against those who use this pretext to prey on others. The artwork starkly contrasts to the bright vibrancy of Superman and other heroes, his black suit and use of the dark represents 'the chiaroscuro of justice.' He fights villains of Gotham City either alone or alongside other masked vigilantes such as Robin and Batgirl.
Batman the Return #1 cover, January 2011, pen and inks. Artwork by David Finch, inked by Scott Williams: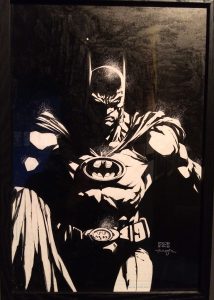 Pencil drawing of Gotham city, from Batman Returns. Artwork by Marty Kline, 1992: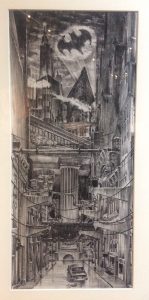 Detective Comics #61 cover, March 1942, showing Batman and his accomplice Robin. Artwork by Bob Kane and inked by Jerry Robinson and George Roussos: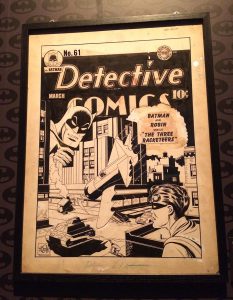 Batman's intense physical training transformed him into the modern ideal of the time with a strong, healthy body. His vast resources were utilised in new technology, seen here in this illustration of the Batmobile by Tim Flattery:
When high risk missions need more extreme measures that don't align with the DC superheroes moral code, they call upon Task Force X, otherwise known as The Suicide Squad. Originally appearing in The Brave and The Bold in 1959 as a more traditional military team defending mankind from monsters, they were reintroduced as The Suicide Squad in Legends #3 in 1987. This team of criminal antiheroes are expendable villains looking not to be acquitted of their crimes but to simply lessen their sentence. The 2016 film adaptation by David Ayer tells their story, updating its elements for a contemporary audience, such as giving Harley Quinn's costume a more modern style with colourful and edgy street wear as opposed to a black and white suit: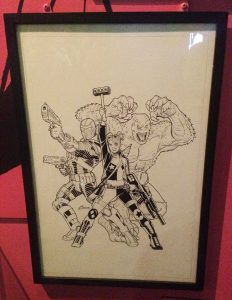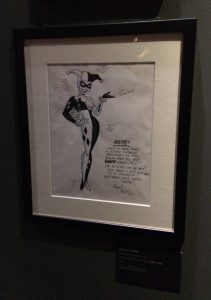 The contemporary mythology was however incomplete until the creation of Wonder Woman in 1941. Representing 'the best of all of us,' according to Thibaut de Saint Maurice, Wonder Woman invites us to make the best of ourselves. Her beauty is taken from 'the best parts of humanity,' created for good and not to destroy. For Saint Maurice, it is both essential and inconsequential that she is a woman, as justice, love and peace are qualities of humanity as a whole, hence the words of Louis Aragon from his poem Zadjal de l'avenir (1963): 'The future of man is woman. She is the colour of his soul.' Created at the onset of World War II by Moulton Marston (pen name Charles Moulton) with the assistance of his wife, Elizabeth Holloway Marston, Wonder Woman (aka Diana Prince) was the fearless maiden who gave up her heritage of peace and happiness to help America fight evil and aggression. As the third pillar of the DC Trinity alongside Superman and Batman, she is motivated by her desire to let peace reign and loving her fellow man. She bridges the gap between the contemporary mythology of superheroes and that of the gods of Olympus because she is an Amazon, part of a tribe of female warriors from Ancient Greece who live together on Paradise Island governed by Queen Hippolyta.
Wonder Woman Cover artwork showing the moment when a man arrives on the beach at Paradise Island: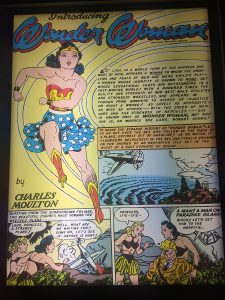 A concept art painting by Aline Bonetto and Aaron Sims Creative depicting the first meeting between Wonder Woman and her love interest, Steve Trevor:
A costume illustration of Wonder Woman's wetsuit, with an added reflection of the costume from the original film:
The first iteration of Wonder Woman in 1940 by Harry Peter, depicted in mixed media and holding her lasso of truth: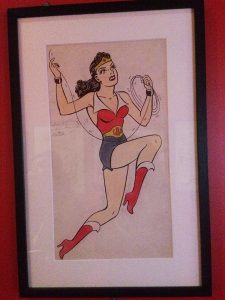 The first team of comic book superheroes debuted in All Star Comics #3 in 1940, calling themselves the 'Justice Society of America.' Iconic heroes from the Golden Age including The Flash, The Green Lantern, Hawkman, The Atom, Dr Fate and The Spectre were united by their shared values of justice and liberty. Their adventures were published until 1951, and then reappeared as the Justice League of America in the February/March issue of The Brave and The Bold in 1960. The team now consisted of Batman, Superman, Wonder Woman, The Flash, Green Lantern, Aquaman and Martian Manhunter. Not confined to comic books, the league has been appearing in animation throughout the decades and recently given live action treatment in Zach Snyder's new film (although I prefer the blond haired animated version of Aquaman).
Justice League of America #100 cover by Nick Cardy, August 1972: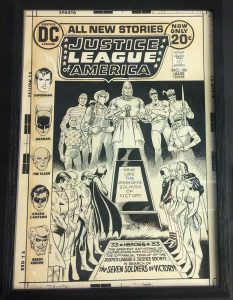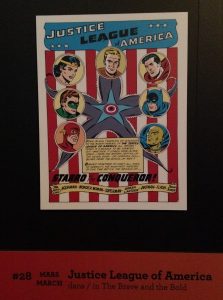 Cover artworks for The Flash, Wonder Woman, Teen Titans, Green Lantern and Superman: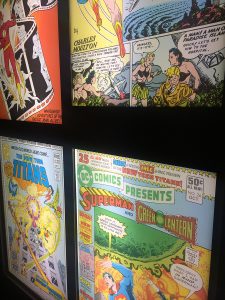 Similar to mythological heroes of ancient times, members of the League were drawn with powerfully built bodies and other godlike features: The Flash's winged boots and speed echoes Hermes and Aquaman is king of the underwater city of Atlantis, evoking the majesty of Poseidon.
Hawkman cover:
Aquaman #48 pen and ink cover artworks by Nick Cardy, December 1969 (left) and #57 by Jim Aparo, September 1977 (right)
Mixed media artwork by contemporary comic artist, Alex Ross: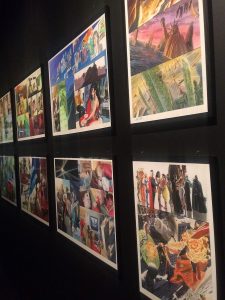 There is far more in the exhibition than I can cover in this blog, but I would highly recommend visiting it as either an art admirer or superhero fan, as it was superbly curated and incredibly educational!
This is my pen drawing of The Daily Planet globe from Superman as a dedication to the DC Comic style: