'The artist sees what others only catch a glimpse of.' Leonardo da Vinci
Nestled between the streets of Mayfair and St James', behind the elegant facades of historic London townhouses, lies 40 bespoke galleries, 3 of the world's most celebrated auction houses, and over 5000 years of art.
For traditional fine art dealers, collectors and enthusiasts alike, this affluent district provides a marvelous treasure trove of ancient sculptures, old master paintings, post-Impressionist paintings, drawings, and textiles.
Each gallery is a specialist in their field, catering both to prominent museums and art collectors, as well as being open to all members of the public throughout the year. They offer a unique opportunity to peruse and buy, artworks and masterpieces at leisure and in a private setting, a welcome refuge away from the crowds at larger institutions.
Often operating through word of mouth, each gallery is so specialised in its area and seemingly discreet, that most clients become familiar with their exhibitions not just through publications and extensive scholarship, but also through fine art fairs such as Masterpiece, which is held annually at the Royal Hospital Chelsea.
The galleries and auction houses also participate in London Art Week, a twice yearly event which acts as a tantalising taster into their acquisitions, exhibitions and research. Visitors are offered free art gallery tours, talks and the opportunity to buy artworks from some of the most distinguished art dealers and curators.
Just as Leonardo Da Vinci adeptly expressed the unique vision an artist has, so do collectors, connoisseurs, dealers and art enthusiasts yearn to see into the soul of the artist and, through years of dedicated research, expertise and passion, bring to light the periods of art history which deserve inclusion in the canon of artistic influence.
Over the course of one week, from 29 June to 6 July, the founders of London Art Week (LAW), take visitors on a free lunchtime walking tour in either Mayfair or St James', with the itinerary changing each day. I attended the tour on 4th July, lasting just 60 minutes and offering a glimpse into four bespoke art galleries in Mayfair. Some galleries were also exhibiting artworks at Masterpiece, but many of their most historically significant pieces remained at the gallery. I had no previous knowledge of which specific galleries we would visit and I was delighted with the ones chosen by LAW that day, some almost concealed on street view in elegant London townhouses and all within walking distance of one another.
Our first port of call was Lullo – Pampoulides on Cork Street, exhibiting master paintings and sculpture. Established in 2016 by Andrea Lullo and Andreas Pampoulides, each artwork was presented with rigorous scholarship, their aim, according to gallery manager Chiara, to assist art lovers from all ages to engage with art across all periods.
The below oil painting by Antonio Mancini (1852-1930) was the most contemporary painting on display at Lullo – Pampoulides, having been painted in 1910. Entitled 'Suonatrice di mandola' or 'Il costume giapponsese,' it depicts a woman wearing an antique Japanese costume playing the mandola. The paint thickens in places in an expressive impasto technique, creating a glistening effect. The use of light within the painting illuminates her smiling expression, suggesting her contentment and ease with the viewer:
Both Lullo and Pampoulides are compelled by their passion for art and acquire pieces that especially capture their discerning eye, even if the origins or attribution is unknown. Part of the joy of being an art specialist must be in the pursuit of discovery and unearthing new and historically significant artefacts! The below terracotta sculpture, depicted with the same energy as an Auguste Rodin piece, is awaiting attribution and currently undergoing research. A recent acquisition, it has however been established to be of the esteemed classical composer, Giuseppe Verdi, but sculpted post humously.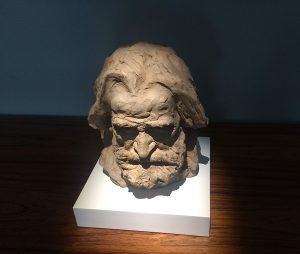 A stunning bronze sculpture of Jesus is also a recent acquisition and is under investigation for its attribution.
Directly across the street from Lullo – Pampoulides lies Sam Fogg gallery, his name emblazoned prominently above the large windows. A leading art dealer in late medieval and renaissance textiles, Fogg is committed to redefining the market for medieval art in Europe. Luxurious silks, intricate weaves, patterns and tapestries in incredible colours and condition adorned the walls in a mixture of Christian, Islamic and Indian pieces.
Where some tapestries were evidently historic in their patterns, some were also quite contemporary in their designs, such as this Perugia Towel, with wyverns, griffins and human figures. Dating from 15th or 16th century, the towel originates from Central Italy: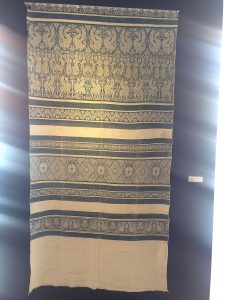 Velvet chasuble back with the Crucifixion from Central Europe, Bohemia, circa 1500: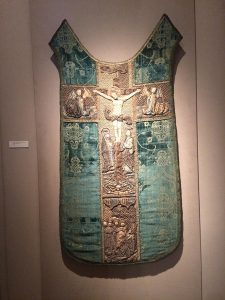 As a reader of English Literature at University, with modules on Medieval literature, chivalric romances in particular, I was delighted to discover this large tapestry depicting The Marriage of Blanchefleur from the Story of Garin and Begon, originating from Southern Netherlands in 1460-80: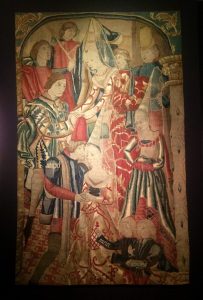 Next we visited Lowell Libson & Johnny Yarker, specialist dealers in British art with an emphasis on watercolours, paintings, sculpture and drawings of the seventeenth to mid-nineteenth centuries. Their exhibition, 'The Spirit & Force of Art: Drawing in Britain 1600-1750', was on show from 29 June to 6 July so it is worth researching the galleries to see what and when they will feature a new exhibition. The result of ten years collecting, this unprecedented exhibition celebrated almost 100 British drawings from a period before the foundation of the Royal Academy. It offered a rare opportunity for art collectors and museums to acquire significant works from 1600-1750 that were previously neglected by the art market and both private and institutional collectors. Some of the artworks on display were influenced by the fashionable Dutch and Flemish styles of the sixteenth century, rather than by the Italian imports during the reign of Charles II.
I look forward to visiting Libson Yarker again and perusing further drawings by master court painter, Sir Peter Lely, and renowned 16th century artist Louis Laguerre, whose murals decorate Fetcham Park House, a gorgeous Grade II listed house and wedding venue. There is also a portrait of the English ship, Princess, by Willem Van de Velde the Younger, 1633-1707, that was particularly intricate and beautiful.
Isaac Oliver's masterpiece in miniature, The Annunciation to the Shepherds:
Jacques Rigaud, The Rotunda at Stowe: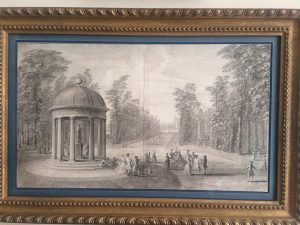 Louis Cheron's drawing of Mars: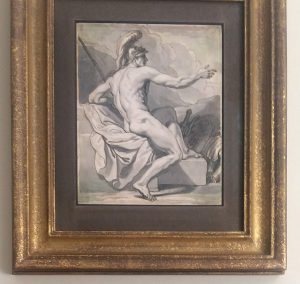 Our last stop on the art tour was Ben Elwes Fine Art, a specialist dealer in Old Master, British, nineteenth and twentieth century paintings, drawings and sculpture. Together with his wife and co-director, Rachel Layton Elwes, who comes from an American academic and museum background, they offer a discreet service, with broad expertise in the market. Their clients include the National Gallery, Tate Britain, the Musee du Louvre and the Met.
Their exhibition for London Art Week featured vibrant Old Master oil paintings on canvas and copper, the latter material delivering a gorgeous intensity of colour.
The below oil on canvas painting by Carlo Dolci is entitled 'Portrait of a Young Man,' and was completed between 1627-1633. This portrait, perhaps of a fellow artist, was painted when the artist was just 12 years old, however as Ben pointed out, an artist would often be apprenticed at a professional artist's studio from the age of six, so this portrait is in fact the culmination of six or seven years of experience:
A portrait of Jesus which captures the highly emotional moment before he was flogged. Giovanni Lanfranco (1582-1647), Christ at the Column, Oil on copper: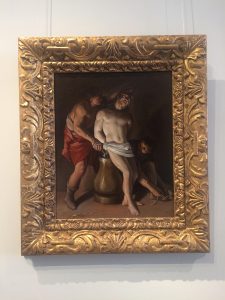 Ben and Rachel also have a propensity to collect abolitionist art, particularly as a result of Rachel's study of African American history. Aside from some poignant artefacts such as an original slave collar, there was also a Staffordshire porcelain figure of abolitionist, John Brown, and the below painting by prominent early nineteenth century artist, Henry Hoppner Meyer (1780-1847). Entitled 'A Young Catechist', it depicts a young missionary teaching a slave how to pray. The portrait was exhibited at the Society of British Artists in 1827, accompanied by a poem by Charles Lamb.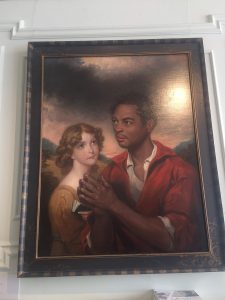 A corner of the gallery also revealed this treasure, a portrait of a Navajo woman painted in 1916 by Maxwell Armfield: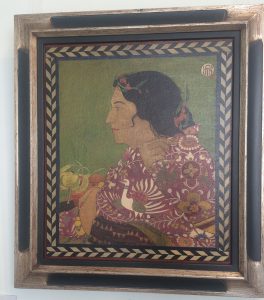 The tour was now complete, but the founder of London Art Week and our guide, Philippa, urged us to visit Daniel Katz gallery and Ariadne gallery, both situated in a Victorian townhouse just off Berkeley Square. Behind an elegant façade, paintings from antiquity to the twentieth century were on display.
Located on the first and second floors, the exhibition at Daniel Katz placed an emphasis on women in elegance for London Art Week and included paintings by Gustav Klimt and Dante Gabriel Rossetti of the pre-raphaelite brotherhood.
Oil on canvas portrait of Lady Hillington by Sir Frank Dickser, 1905:
A Japanese Lady, oil on canvas, by William Meritt Chase, circa 1902: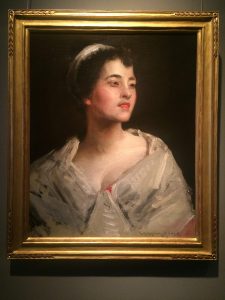 A vibrant study of a Neopolitan girl by John Frederick Lewis, RA (1804-1876), in mixed media: pencil, black chalk and watercolour.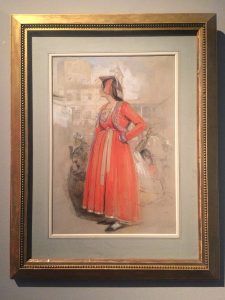 Rounding the corner of the main hall however, was this magnificent oil painting seemingly illuminating the dimly lit corridor. There was no description which added to its enigmatic quality, but the intensity of light exuding from the painting in almost a chiaroscuro effect was astonishing.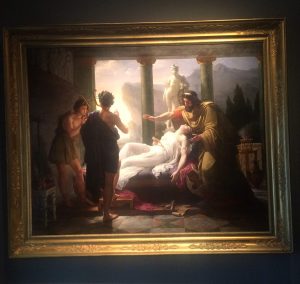 This detail of the silk dress emphasises the remarkable glazing technique of the artist to render a translucent and almost sculpture like effect.
Upon walking upstairs to Ariadne Gallery, my friend and I stumbled upon the director's office where he kindly allowed us to look around the art pieces on display. This clock caught my attention and although we didn't have time to discuss the piece with the director at the time, its elaborate design reminded me of one of my favourite periods of art history, Baroque.
On the second floor of the townhouse lay Ariadne Galleries, leading specialists in ancient art. Based in New York with their second gallery in Mayfair, the family dealers have established themselves as unique in their field, with an extensive client base stretching from private collectors to prominent institutions. They are also regular exhibitors at Frieze Art Fair, Tefaf and Masterpiece.
Miniature artefacts of antiquity were delicately arranged on plinths, not behind glass as in the British Museum, but on display for buyers and collectors to handle (with care of course). Indeed, the artefacts were not originally intended for arts sake or even solely for burial purposes, but also to be used either in religious rites or everyday use, such as a mirror or cosmetic vessel, the latter of which was intended perhaps to hold perfume. It's also incredible to fathom that these artworks were created without machinery or complex tools.
The minimalist design of the artefacts bordered on abstraction, void of unnecessary details. The central figure in the below photo reminded me of Alberto Giacommeti's work and although it might look modern, like other pieces in the gallery, it seems generations of subsequent sculptors and painters such as Picasso have simply been inspired by ancient artworks to create similar styles of art: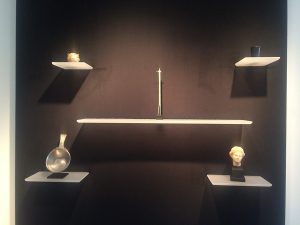 Gallery specialist, Alex, pointed out that artists from ancient periods have been largely erased from history, the sole purpose of the work was to signify something symbolic and cultural, larger than the artist themselves. Indeed, the artwork is then admired for its own sake or its religious significance, rather than a study of a particular artists work. This is in stark contrast to artists from the Renaissance onwards, where the artists name has become more important.
Juxtaposed against these ancient works of art were abstract modern paintings by Richard Serra; the contrast of black etching ink, silica and paintstick on handmade white paper evoked a similar, yet contemporary, mystery and primeval quality.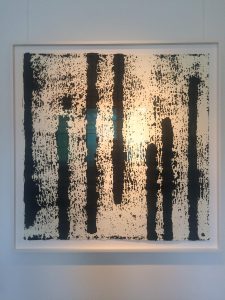 From Mayfair, we then headed to Christie's on King Street, St James' London. Founded by James Christie, the auction house has established itself as the greatest and most celebrated market leader in old master paintings, most recently selling Leonardo Da Vinci's Salvator Mundi for $450 million. My friend and I had just missed the auction viewing, but will be headed there again for another viewing in the near future!
One particular wish of mine during London Art Week was to see works by Canova, considering we had missed a recent talk on his works. With that in mind, we headed to Robilant and Voena located in Dover Street, where the curators have acquired a vast range of fifteenth century to twenty first: old masters and nineteenth century painting, classic modern, Italian post-war and contemporary art. They have also shown works by another of my favourite artists, Caravaggio.
Luminous oil paintings adorned the walls but I eventually found what I had been seeking, not the subject necessarily, which was of Caroline Bonaparte (apologies to Caroline), but the artist, Antonio Canova; his sculpture, Psyche being revived by Cupid's kiss, is an emotional and graceful piece capturing the beauty of their love seemingly effortlessly. To render such a tender look in marble for me is astonishing and reflects a similar prowess to another sculptor, Gian Lorenzo Bernini.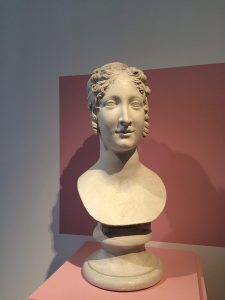 There are many more galleries in Mayfair and St James' that participate in London Art Week and which I didn't have time to visit, so I look forward to discovering their artworks soon! I would highly recommend visiting these galleries throughout the year to either peruse or buy, an appointment is not needed. Intimate settings define the galleries on show and offer a welcome private retreat from the crowds at other larger institutions nearby. The owners and gallery specialists look forward to welcoming you soon!
This is my oil on paper rendition of a beautiful ornate pattern which can be found at Sam Fogg's gallery on a panel of polychrome voided silk velvet from Ottoman Turkey, circa 1460-90: