'You are altogether beautiful my love, there is no flaw in you.' Song of Songs
Each winter the Glasshouse at RHS Wisley transforms, almost dreamlike, into a tropical paradise. Its 28 degree heat serves as a haven to over 7,000 butterflies that have travelled (with a little help from humans) thousands of miles to help educate wildlife enthusiasts of all ages on exotic butterflies, butterfly conservation and their importance to the environment.
Bred on a farm in Belize, Central America, these butterflies originate from tropical climes in the Americas and Asia, where the lofty heights of the rainforest canopy is their natural habitat. The farm is invaluable to conserving butterflies, where 15,000 caterpillars are looked after at a time and many released back into the wild. The owners, who live in the UK, are also owners of Stratford Butterfly Farm in Stratford- Upon-Avon.
Aside from the rainforest oasis, visitors can experience an interactive zone where they can watch the lifecyle of a butterfly and get a rare close up view of their wings. Visitors can learn about their behaviour, such as courtship, feeding and egg laying as well as how they differ to moths.
Butterflies are ectothermic (cold blooded) and constantly seek the warmth of the sun, so the best place to find these dainty winged insects were the pools of sunlight on the paths around the glasshouse. Seeing the butterflies dance around the trees and alight nearby never fails to bring a smile to all the . The food table was another area guaranteed to host several butterflies, and often the best place to have a better view of their beautiful wings.
With so many  unusual and non native species, there is a handy guide which helps identify the different species. 
This white, yellow and black beauty is a Tree Nymph, native to the Philippines, Indonesia, Japan, India, Sri Lanka and other areas of Southeast Asia. Their delicate flight patterns and black and white coloration distinguish them from others. Tree Nymphs usually live high in the forest canopy but descend to ground level for nectar and mating. According to Garden Guides, these butterflies can thrive in altitudes up to 5,000ft and below to 2,000ft. Many tree nymphs secrete a chemical substance known as 'danadoine,' which is a deterrent to predators and makes them unpalatable.
Their wings reminded me of stained glass, which seemed to glow with the sun's rays through the windows.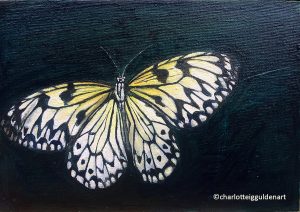 Although we are unlikely to see exotic butterflies like the Tree Nymph in our temperate climate, many native butterfly species are endangered and need our protection.  
I regularly contribute a painting to the Environment Trust's Secret Art Sale to promote wildlife conservation in the UK. Last year, the theme was 'wildlife corridors,' its definition recorded in my blog:
These corridors, aptly named 'natures highways and byways' by the RSPB, are integral to the maintenance of ecological processes, including allowing for the movement of animals and the continuation of wildlife populations.
These corridors, formed out of hedges, flora and fauna, are indispensable not only for butterflies, but also for hedgehogs, frogs, toads, newts, bees, dragonflies, creepy crawlies, moths, bats, birds, badgers and foxes. Wildlife, such as insects and butterflies, are crucial to the general health of the ecosystem and maintaining the natural balance and their decline in numbers usually reflect a decline in the health of the environment and are often indicators of pollution etc.
Insects like Butterflies are necessary to pollinate flowers,  and are especially attracted to certain plants and flowers such as lavender in order to thrive. The RHS have compiled a guide on how to attract native species, including planting brightly coloured buddleias.
2018 marks the 50th anniversary of the Butterfly Conservation society, with Conservation Day being held on 10 March before Mother's Day. To celebrate this landmark year, the charity are holding conservation events around the UK to give you the opportunity to get involved in the effort to protect over 100 endangered species.
Sir David Attenborough, President of Butterfly Conservation, has urged everyone to take action to help reverse the decline of our butterflies; sadly their habitats have shrunk significantly over the years due to climate change, pesticide use and other factors. You don't need to have specialist knowledge to become a butterfly conservator or naturalist, you can simply help plant a meadow or develop your own garden into a butterfly and wildlife haven. Whichever you choose, it will be an invaluable contribution to our environment and to ensure future generations can continue to enjoy the diverse species in our gardens and wild areas.
Here is one of our native beauties which I immortalised in oil paint in 2017: a perfectly formed Peacock butterfly and a regular visitor to our garden:
Happy conserving!