"I am my beloved's and my beloved is mine; he grazes among the lilies." Song of Songs 6:3
As we enter the height of the wedding season this month, I wanted to reveal that I have had an exclusive solo show at the Surrey County Council Register Offices since December 2017.
My artworks are on show for the public at The Mansion, Leatherhead, Artington House, Guildford and Rylston, Weybridge.
These historic buildings present a beautiful backdrop to wedding and birth ceremonies. The Mansion is a Grade II listed 16th century building, with a gorgeous façade of red brick in Flemish bond.
The Council informed me recently that across their offices, they hold an estimated 1,800 ceremonies each year.
The public are welcome to visit the offices to view my artwork, where the Council are promoting me as a Surrey Artist.
A few original oil paintings and limited edition prints are on show for the public in the ceremony rooms and entrance at Artington House, Guildford. Limited edition prints are on display in the ceremony rooms and waiting area at Rylston, Weybridge, and in the spacious waiting room overlooking the garden at The Mansion, Leatherhead. The artwork is available to buy.
This solo exhibition has a special place in my heart as the Surrey County Council awarded me the Surrey Art Award in 2005 for my school project on Vanishing Cultures; this award was a wonderful, unexpected, surprise, as my school entered me into the competition without my knowledge.
I am currently working on a few original paintings of the register offices, which will then be put on permanent display. The original or print may provide a lovely memento to celebrate a wedding or birth.
The first painting I am working on is of the wisteria enveloping the exterior of Artington House in Guildford. The below image shows a section of the painting:
I am currently balancing a few projects, however once I have completed this painting, I will focus on Rylston and The Mansion.
You are welcome to attend this special solo show; the register offices can be found at the following locations:
Artington House,
42 Portsmouth Road,
Guildford,
Surrey,
GU2 4DZ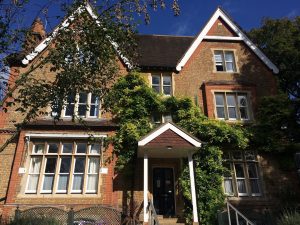 View of Artington House from the front.
Rylston,
81 Oatlands Drive,
Weybridge,
Surrey,
KT13 9LN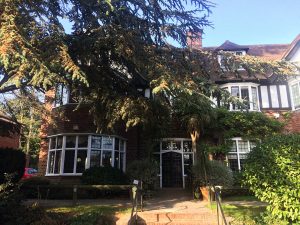 .
View of Rylston from the garden.



View of the garden at Rylston from the waiting area.
The Mansion,
70 Church Street,
Leatherhead,
Surrey,
KT22 9DP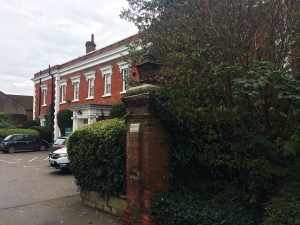 Approaching The Mansion.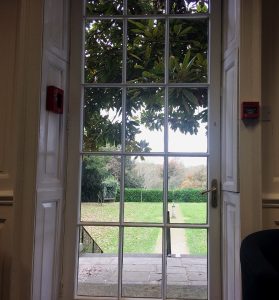 View of The Mansion's garden, from the waiting room.